Soil Erosion Control in gentle co-operation with nature.

Coir – the golden coconut fibre – is a 100% organic fibre. Coir has strong cellulose fibre with high lignin content. It is naturally resistant to rot, mounds and moisture. No chemical treatment is required and there is no synthetic substance to be added during slope applications.
Coir fibre is hard and strong, with good properties for being spun and woven into matting. CCM-Coir Geotextiles (CCM-CGT) has unique properties and just right strength and lifetime to protect slopes against erosion and help the natural vegetation to take root. The netting breaks up run- off heavy rains and dissipates the energy of flowing water. Coir also promotes the growth of new vegetation by absorbing water and preventing the top soil from drying out. Coir geotextiles resembles natural soil in its capacity to absorb solar radiation which helps to avoid excessive heating – sometimes a problem with synthetic geotextiles.
CCM-COIR GEOTEXTILES IN DENSITIES FROM 400 TO 1,400 gsm
A range of different mesh mattings are available, meeting varying requirements:
Matting density to meet soil pressure.

Open surface percentage, allowing for a new growth of vegetation.

Capacity to control surface water.

Requirements on microclimate.

Requirements on landscape design and costs.


A higher density means a tighter mesh and less open area in the netting.
| | | | | |
| --- | --- | --- | --- | --- |
| Product No. | Warp ends per dm. | Weft picks per dm. | Density. Kg/Sq.m | Delivery specifications |
|   |   |   |   |   |
| H2M1 | 9 | 8 | 0.650 |        ROLLS |
| H2M2 | 8 | 7 | 0.700 | LENGTH 50 Mtr. |
| H2M3 | 14 | 14 | 0.875 | WIDTH 1 TO 4Mtr. |
| H2M5 | 9 | 8 | 0.740 |   |
| H2M6 | 4.6 | 4 | 0.400 |   |
| H2M7 | 4 | 6 | 1.250 |   |
| H2M8 | 11 | 7 | 0.700 |   |
| H2M9 | 13 | 7 | 0.900 |   |
| H2M10 | 18 | 9 | 1.300 |   |
The heavier grades can be used on embarkments and slopes where there is no or little vegetation. Other advantageous applications are on ski slopes, and as a bottom reinforcing materials in watercourses. Coir has good properties for use under water. There the natural degradation is considerably slower, since micro organisms are generally less active.
The lighter grades of CCM Geotextiles are suitable for prompt erosion control of all kinds of green areas. The netting can also be used over garbage dumps and mining areas, where and changes shape frequently



TEST REPORT OF CCM GEOTEXTILES AS PER ASTM STANDARDS. (TESTED IN USA)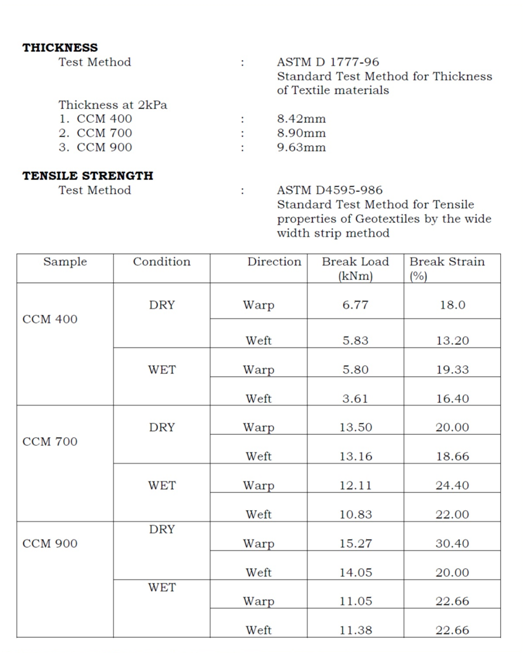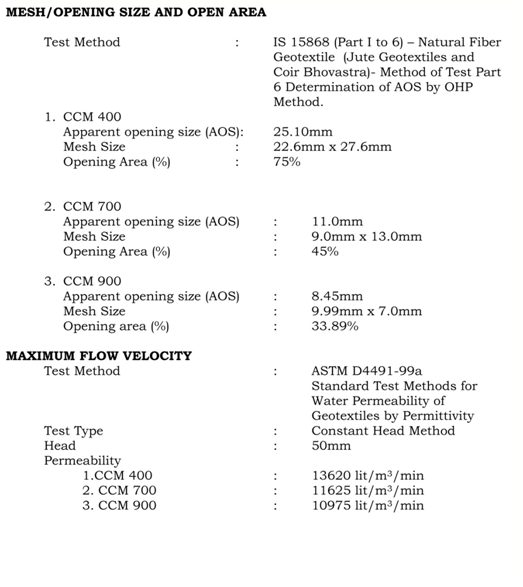 Water beds

Road & Rail embarkments

River embarkments

Landscaped areas

Mining fields and waste dumps areas

Dam

 

Airfields

Golf courses

Ski slopes and Ski lift tracks

Sea shores

Noise control banks

Defence installations

Cutting and hillside slopes